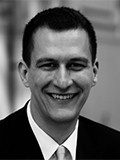 Guest Speaker, Mérték Stúdió Kft. / HuGBC
MSc. Architect (BME), MSc. ClimaDesign (TU-München), owner and R&D Director of
Mérték Architectural Studio Ltd
PROJECT: Design = Research + Development
Awards (*selection): 2015 Best Wellness Spa in Europe category at the World Boutique Hotel Awards, London – Aria Hotel Budapest; Őrmező new intermodal transit hub of the subway station architectural competition-shared 1. place, 2013; Kodály Center – Pécs, FIABCI Prix d'Excellence Public Infrastructure/ Amenities Category Runner up, 2012; Kodály Center– Pécs, Media Architectural Award, Public award, 2011; Corvin Atrium- FIABCI Prix d'Excellence award (Specialised Project Category)-1. Place, 2011; 2008 Young Architects' Generation Award of the Association of Hungarian Architects (MÉSZ); 2007 Hungarian Design Award Winner - HOMO LUMENS MMVII dynamic glass façade;
Dr. András Reith is an expert of energy-efficient and environmental conscious design, has been active in the field for nearly twenty years. As owner, chief architect and R&D director in MÉRTÉK Architectural Studio and owner and CEO of ABUD (Advanced Building and Urban Design) he is working with the largest real estate developers for creating a more climate-friendly built environment.
In the last 23 years, within MÉRTÉK Studio a special group of architects was founded with specific engineering experience in facades and in energy and environmental design. He and his team promoted sustainable design and façade consultancy such as facade optimization, general consultancy on structures and building physics, energy controlling service for facades, optimization of double skin facades through thermal simulation, construction design of steel facade structures, 3D design and modeling of glass surfaces, ClimaDesign®, etc.
As head of research Mr. András Reith is working with several international research consortia, his results are published at conferences and in scientific and professional journals. In addition to the work in Scientific Committees of conferences, you could meet him as lecturer of universities BME, MOME, University of Pécs, and TU München, and he is a member of the Public Body of Hungarian Academy of Sciences. As founder and former president of Hungary Green Building Council he plays a significant role in spreading eco-design.
ARIA HOTEL Budapest, the winner of a prestigious European awards, presented at INGLASS
Recently, ARIA Hotel Budapest won a prestigious European award – 2015 Best Wellness Spa in Europe category at the World Boutique Hotel Awards, London. The project is presented at INGLASS Budapest on 23rd November 2015.
Hotel Aria is in a monument building, in the neighborhood of Basilica, one of the most spectacular historical area of Budapest. The glass structure specialists of ABUD – in collaboration with the glass specialist firm Seele – designed pure glass cover above the atrium, that allows impressive view of the historic facade of the building from the inside. The glass roof is unique in Europe: not only the glazing panels but the load-bearing structure: the wide span beams are made entirely of glass, and the insulated glazing panels were curved during the lamination process. The light, sophisticated cover fulfills the structural-, fire protection- and architectural requirements, and gives the atrium a unique character, by letting the historical details prevail throught the transparent roof.
Awards:
Őrmező new intermodal transit hub of the subway station architectural competition-
shared 1. place, 2013
"The urban design conception according to the Istvánmező rehabilitation programe" competition -3. place, 2012
"From the train-station to the sport city centre" Bp. XV. District Rákospalota City Centre architectural competition – shared 2. place, 2012
Rehabilitation of the main building of the Arts and Crafts Museum competition
purchase, 2012
Kodály Center – Pécs, FIABCI Prix d'Excellence Public Infrastructure/ Amenities Category
Runner up, 2012
Urban- and landscape design competition for 420 apartments social housing complex, Ócsa-Alsópakony architectural competition-special purchase, 2011
Kodály Center– Pécs, Media Architectural Award, Public award, 2011
Corvin Atrium FIABCI Prix d'Excellence award (Specialised Project Category)-1. place,2011
Large surface Watercleaning study design tender of urbanism-1. place,2010
Complex development of the main building and the surroundings of Hungarian National Museum competition-purchase,2010
Corvin Promenade – Bloomberg International Property Awards (mixed-function real-estate project category)-1st place,2010
Moricz Zsigmond Circle, protected monument 'Mushroom' use of the building- 1. place, 2009
Development of the National Memorial 2009 Székesfehérvár-purchase,2009
Budapest, XIII. ker. Váci út – Huba Street – Angyalföldi rd. – road bordered by György Dózsa into space, architectural drafting – restricted study design tender- 2. place,
2009
2008 Young Architects' Generation Award of the Association of Hungarian Architects (MÉSZ);
2007 Hungarian Design Award Winner – HOMO LUMENS MMVII dynamic glass façade;
2000-2004 PhD scholarship at the Budapest University of Technology and Economics,
Faculty of Architecture.
2000 Diploma Award Winner at the Budapest University of Technology and Economics,
Faculty of Architecture. Diploma title: "Museum of Modern Art in Sevilla".
PHOTO GALLERY