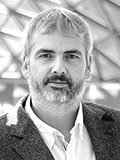 Guest Speaker, Palatium Stúdió Kft
AWARDS:
Cemex Building Award 2015, Infrastructure and Urbanism, 1st place
Building of The Year Award 2015, Public Architecture, archdaily.com
A+Award 2014, architizer.com
Mies van der Rohe Award 2015-Nomination
Price of Excellence of the Budapest Architect Chamber, 2015
As a young architect, Balázs Csapó has been a partner at Palatium Studio Ltd. since 2005. Palatium was responsible for the general designing of Metro Line 4 Budapest, the largest infrastructural project of Budapest in the past decades. Mr. Csapó had a key role in managing and harmonizing the work of different architect offices with huge engineering companies. Besides taking part in several professional projects, Mr. Csapó is an active member of the Budapest Arcitect Chamber and is also involved in the Board of Supervision of the Chamber of Hungarian Architects.
M4 stations glass project, presented at INGLASS Budapest
Underground line M4 in Budapest has been the largest infrastructure project of the city for the last decades. The architects aimed to provide attractiveness for public transportation through the quality of the design of a series of new public spaces in Budapest. The new line with its ten stations can be regarded as a building of ten wings, where each wing has its own atmosphere, while they clearly belong together. Following a national competition in 2004, PALATIUM Studio built up a network of architect offices to cooperate with large engineering companies. Similar gestures of handling spaces, functions and materials inform the world of the stations, and at the same time, each station became unique, based on the artistic intentions of the designer. The 10 stations of the new line are the results of architectural experiments with space, structure and light. Fair-faced concrete is used widely for the primary structures, while those elements, close to travellers are in a finer human scale. Glass is a key material for contrasting rustic surfaces and managing the way of light underground. The stations of M4 Budapest has been rewarded several international and national awards, including the Cemex Building Award 2015 (Infrastructure and Urbanism), 1st place; Building of The Year Award 2015 (Public Architecture), archdaily.com; A+Award 2014, architizer.com, and it was also nominee of the European Union Prize for Contemporary Architecture – Mies van der Rohe Award 2015.
PHOTO GALLERY