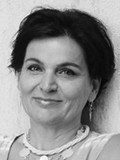 Moderator INGLASS, epiteszforum.hu
Qualifications:
Budapest Technical University, Faculty of Architecture;
•Hungarian University of Arts & Design, Visual Communication Department, Video, Budapest;
•Corvinus University, Media Management postgraduate studies, Budapest (2002);
•Hungarian University of Fine Arts, Intermedia DLA School, Budapest (2005)
Competences:
dipl. architect; audiovisual communication artist and designer; media management expert
Place of employment, sphere of activity:
Moholy-Nagy Art University, Budapest: assistant professor 1989-1998;
•~ senior lecturer 1998-;
•~ head of video department 2003-2006.
•Wonderland Studio Ltd., Budapest: art director 1995-1998
•Ars Wonderland Studio Ltd.: head of studio since 1998
•architectforum Ltd., founder, general director since 2000
Academic degree:
DLA degree in Fine Arts (Intermedia), Hungarian University of Fine Arts, Budapest, 2007
Practice and performance:
Erika Katalina Pasztor's artistic research field is media art and contemporary architectural culture.
•As a media artist she is the author of several art projects (Digital Stones, Budapest, 1998; Story generator 1999; Public Interludes, 2004; 15 years transit, 2004-2006; Reality_Resonance, 2004-2006, Verba/Signa Popularia, 2006-2007). Her independent audiovisual works can be found in local and international collections (Infermental, ed.: Gabor Body, 1987; Balazs Bela Studio, Budapest, 1997; Werkleitz Gesellschaft, Germany, 1999).
•Since 1989 she as a designer contributed a lot with audiovisual designs, broadcast channel designs, documentaries and image films to the audiovisual communication of large television stations and companies (among others: NOB, Hilversum 1991; Yorkshire Television 1992, Hungarian Television 1995-1998; Duna Television 1995-2000, MTM-SBS Television 1998-2000; T-Com 1999-2005; Flextronics International 2000-2005; Nexon 2005-2006; Budapest City Council, 2006).
•As an expert she was commissioned by the Hungarian Patent Office to develop the concept of a new institution "Design Museum and Centre" in 2004.
•Since 2000 she published several articles, studies and interviews, hold lectures in contemporary media art and architecture. She is the initiator and one of the co-organizer of the 'Code of Media' international art and science conferences in Budapest (2003-2005).
•She is one of the inventors (2000) of the architectforum.huonline cultural news company which has become the most visited daily updated site focusing on contemporary architecture, urban and visual culture in Hungary.
•She owns Rubik Scholarship (1989), George Soros Scholarship (1999), EMARE European Media Arts Scholarship (1998, 2000), and with her 'Gate' video installation she won the SUB VOCE (Palace of Exhibition, Budapest, 1991), international media art exhibition's 2nd prize.
5 selected professional works completed in the last 5 years:
Exhibitions:
•"Reality_Resonance" (interactive audiovisual installation), Ludwig Museum Budapest, 2006
•"Budapest Offers More" (interactive audiovisual installation), MIPIM, Palais of Festivals, Cannes, France 2006
•"15 years transit – contemporary architecture from Hungary" (video installation), Architect Chamber Baden-Württemberg, Freiburg, (D) 2004; RAP Architectuur-centrum, Leiden (NL) 2004; City Museum, Győr (H) 2004; Gödör Club, Budapest 2005; City Gallery, Nyíregyháza (H) 2005; Tranzithouse, Cluj (Ro) 2005; Haus der Architektur, Eisenstadt (A) 2005; HDA, Graz (A) 2005; Contemporary Art Exhibition Hall Pécs (H) 2006; Roxy, Prague (Cz) 2006
Design commissions:
•Chapters of Hungarian scientific, technical and cultural history (interactive CD-ROM development), Millenáris KHT, 2002-2004
•Digitized Bodies – Virtual Spectacles (ed.: Nina Czegledy) (digibodies.org) – (interactive CD-ROMs, website and book), Daniel Langlois Foundation, Montreal – Ludwig Museum, Budapest, 2002